Let's Solo Pokémon Red with Weedle (Finale)
As a little bonus, there's one more crazy thing Princey and Victory need to do.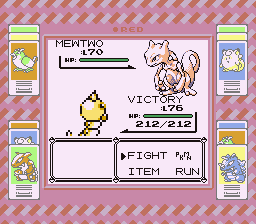 Level 76 Weedle vs. Level 70 Mewtwo. WHO WILL WIN?
There's definitely luck involved here. If Mewtwo decides to use Psychic before Princey can use two X Specials, Victory is OHKO'd. A critical hit from Psychic will also OHKO him. And Mewtwo has Recover with infinite uses, while even at max Attack level Victory can only do a sliver of damage.
Victory uses up all of String Shot's PP and all but 20 or so of Poison Sting's PP on random encounters prior to the battle. Princey manages to fully buff him, and the fight is on. The hope is to poison Mewtwo, get rid of the rest of Poison Sting's uses, and try to struggle it to death.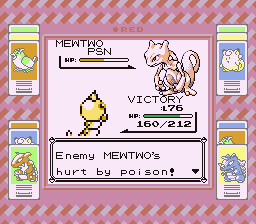 Oddly, and luckily, this time, Mewtwo doesn't try to use Recover until he's been brought down to less than half HP; this happens twice, and then he's whittled down to pretty low health by the time Victory fires off his last Poison Sting use. Then it's Struggle time. And…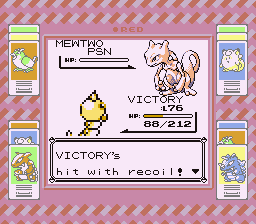 There you have it. Fuck all y'all, Weedle is best Pokémon.
BEST.
POKéMON.
Thanks everybody for letting me spam you with this. It's been fun!